Medical staff can use the EHR Dashboard to view their schedule, encounters, recent patients, alerts, tasks, and messages. Toolbars are accessible from any page within EHR. Use the toolbar to perform actions, open pages, and view tasks, messages, and the Encounter Preview on the slide panel.
There are seven EHR Dashboard views:
Patient Tracker
Room Tracker
Resident Roster
2-hour View
All Locations View
Recent Patients
Open Encounters
Patient Tracker
Use Patient Tracker to monitor and manage patient flow. Patient Tracker provides a schedule-focused view of the Dashboard.
Click the Patient Tracker icon

from anywhere within EHR to open Patient Tracker.

Room Tracker
Use Room Tracker to monitor which patient is in which room and when rooms become available. If you have configured departments and rooms for your practice, you can select and update the status of the room.

Resident Roster
Providers who provide care at nursing facilities typically do not schedule appointments for individual patients; rather they reserve a block of time to spend at the facility. Resident Roster shows the roster of patients who have been identified as residents of the selected nursing facility and their encounter status.

2-hour View
Providers can use the 2-hour View to view their schedule in two hour blocks.
To start a new encounter for an appointment, click the appointment time.
To open the patient's chart, click the patient's name.
To view or edit the appointment details, click

.
To move the schedule back two hours, click Back 2 Hours
To move the schedule forward two hours, click

Forward 2 Hours.

All Locations View
View appointments for all locations for a selected calendar resource and date of service. This option is useful for providers who visit multiple locations on the same day.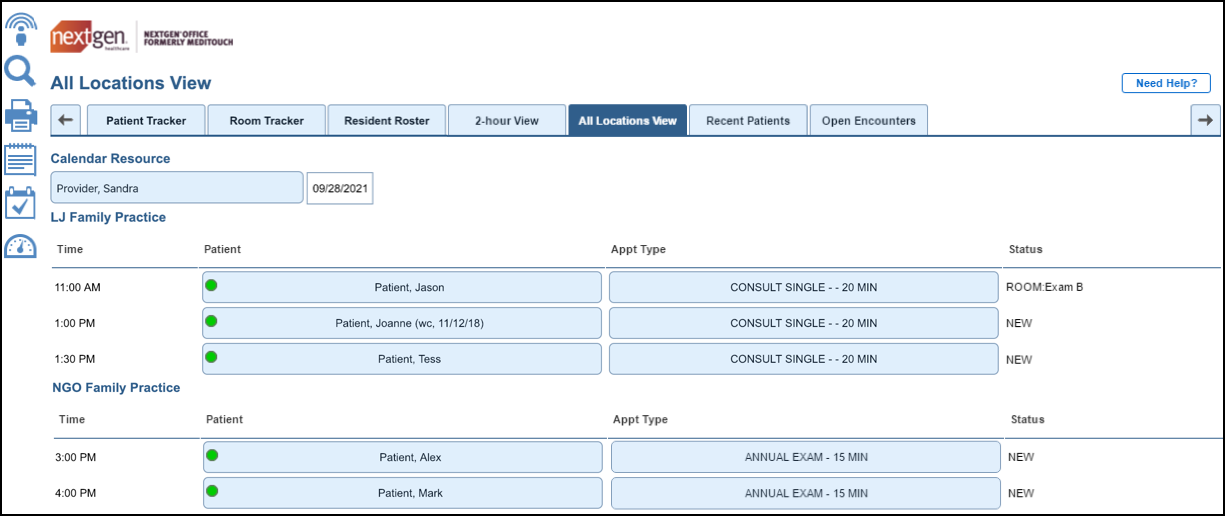 Recent Patients
The Recent Patients view shows a list of the most recently viewed patient charts for the current user. To open a chart, click the chart number.

Open Encounters
The Open Encounters view shows all open encounters for a selected date range.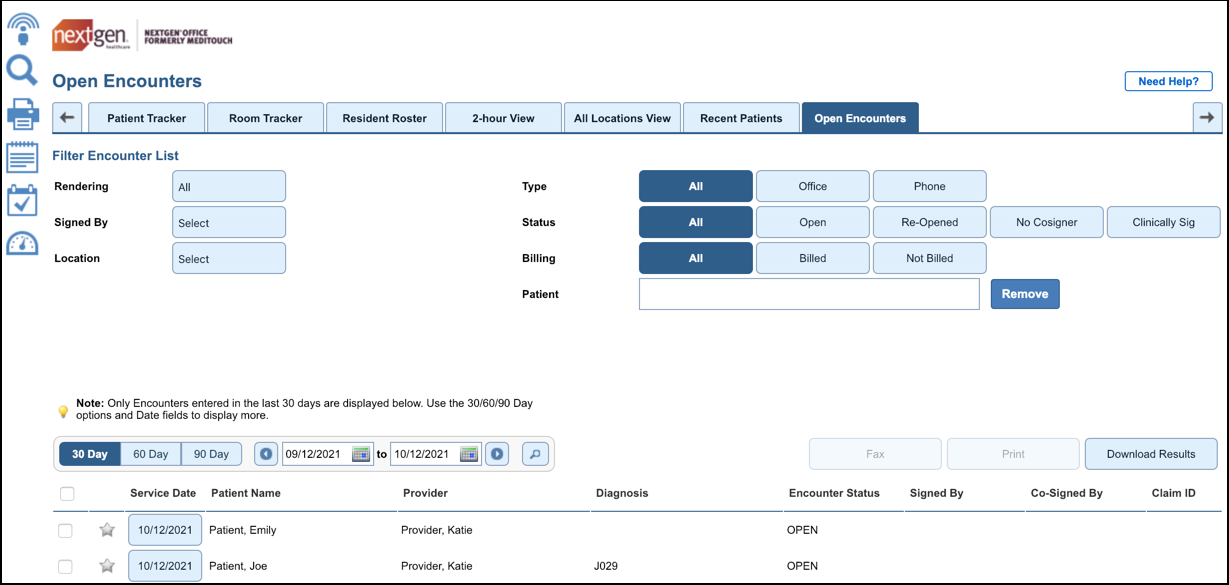 Call MPM today to schedule a Demo at 973-256-1998 x2