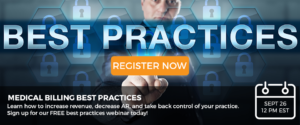 Top 3 Warning Signs your Revenue is at Risk!
Today's healthcare environment presents many unique challenges that can get in the way of independent practice ability to remain profitable without making sacrifices to quality of care or work/life balance. Here are the top 3 warning signs your revenue may be at risk.

1. Your Staff Works Too Much

Providing high quality care during regular office hours is tough enough. Doing so while trying to keep abreast of all of the back office work to keep your cash flowing is, these days, nearly impossible. If you have billers, office managers, and/or providers that are staying at their desks for hours after the doors close, or are bringing crates of claim forms home with them when they leave, it may be a sign that your revenue could be at risk.

2. Your Cash Comes in Too Slowly

Getting paid quickly is extremely important to remaining profitable. Take a look at your Accounts Receivable to get an idea of just how quickly you are being paid.How much of your AR is less than 30 days old? How much is over 90 days old? The older your AR the slower you are getting paid, if you get paid at all, putting your revenue at risk.

3. Your Rejections and Denials Are Too High

Claim rejections and denials speak to a great many issues that may be present in your practice. For one, rejected or denied claims are not paid, so they are money left on the table. Second, rejections and denials could speak to a lack of staff expertise or a need for staff training. Finally, rejections and denials require time to correct and resubmit – the more you have, the more time your practice spends correcting them. Any one of these issues means your revenue is at risk.

If your practice is experiencing any of these warning signs, join our Medical Billing Best Practices webinar on September 26, 2018 at 12 PM EST.

This free, educational session will provide tips and tricks on how to increase your revenue, decrease your accounts receivable, and take back control of your business.